In this article, we will cover:
How to add a TINT Board
On the TINT Launchpad, which is the the first page you will see after logging in, click on the "Create New TINT" button to get started.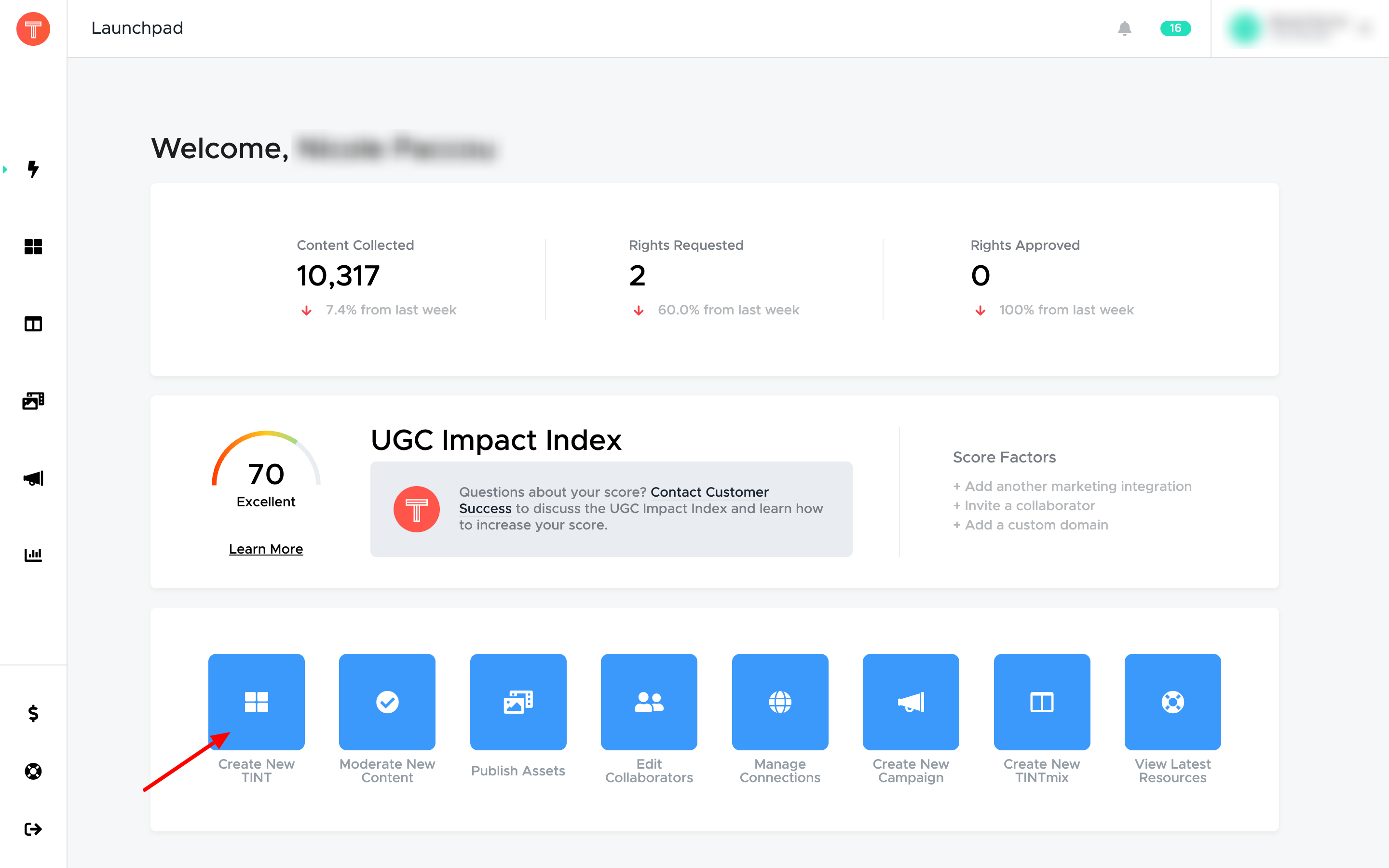 or you can also create a new TINT if you click on the TINT board button

and then click on "+ Add a Board"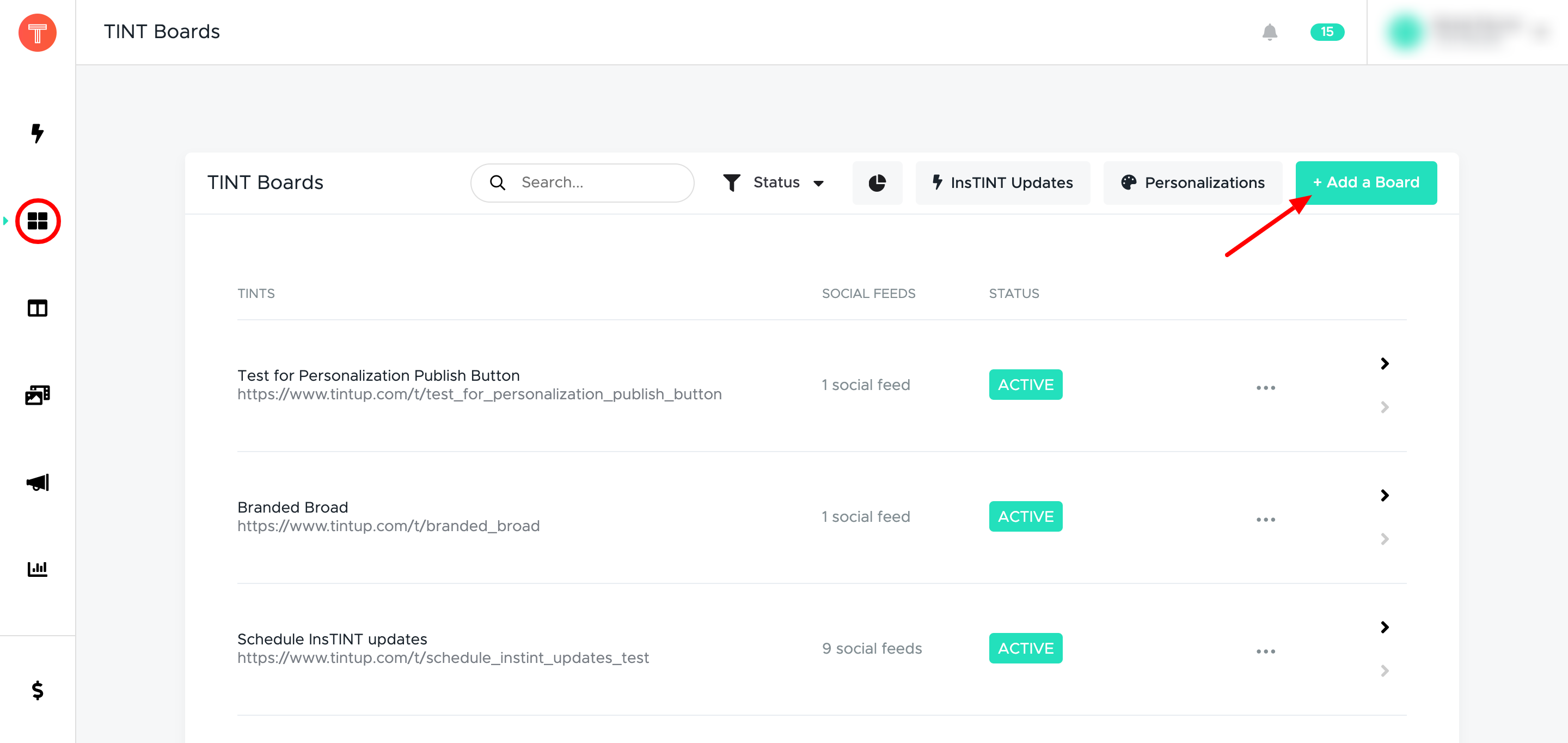 This will bring up a pop up box where you will see:
TINT NAME: enter a name for the TINT board, ensuring that there are no special characters including spaces in the name
TINT SLUG: choose a slug for your TINT board, ensuring that this is at least 4 characters long, no special characters including spaces and is a unique name in our system. If you choose a name that is already taken, will tell you once you press create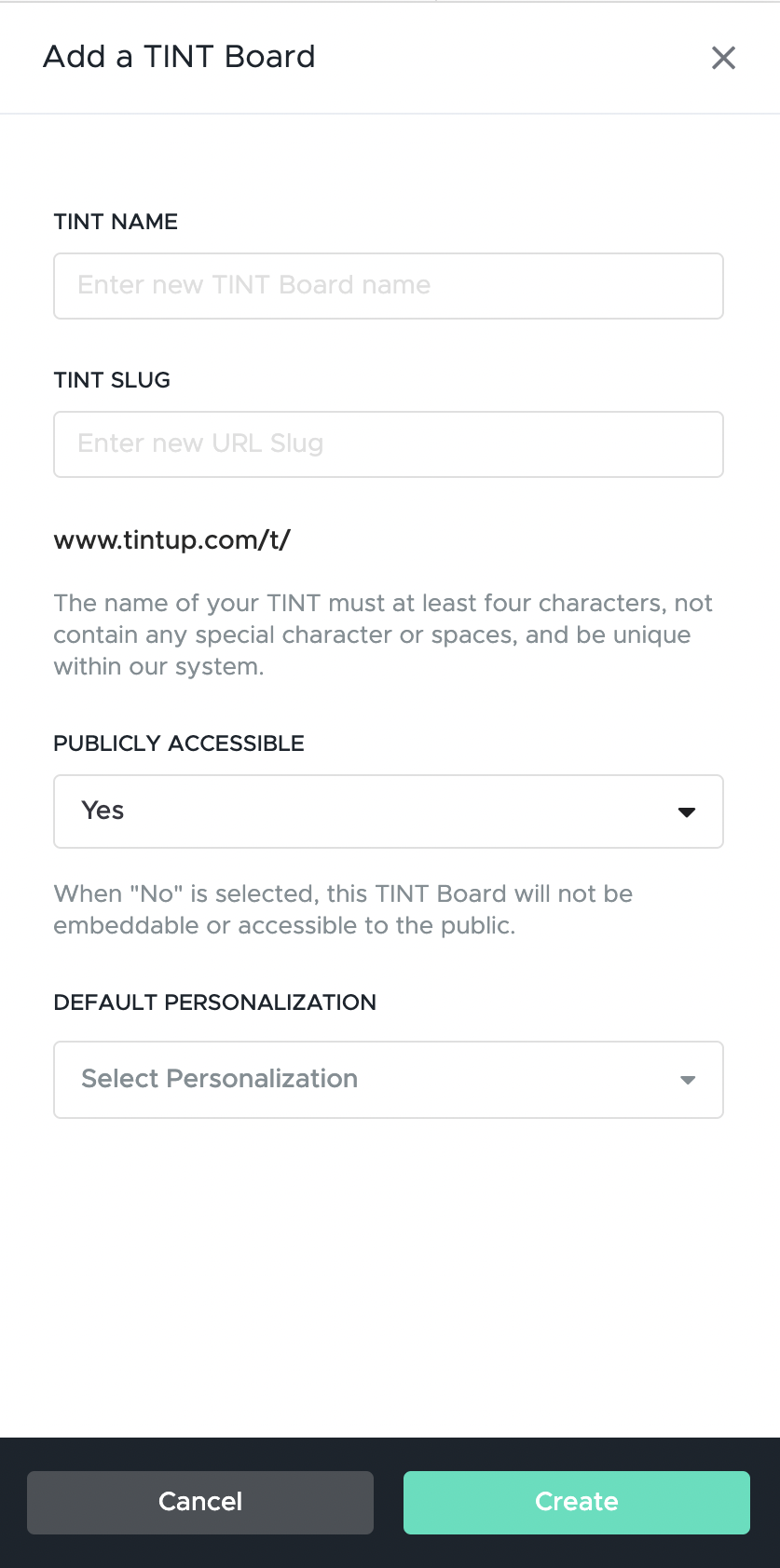 Publicly Accessible: choose Yes or No to enable public accessibility. If you selected "No", this TINT board will not be embeddable and won't be accessible to the public
Default Personalization: which personalization you want your TINT board to have as default. For example, if you delete your personalization that your TINT board is currently published on or if you use a link that doesn't have the personalization code in it. If you don't have a personalization ready for this board, you can leave this blank. You can always come back to settings on your TINT board to allocate one.
Once you are done, click on create, your TINT board will be created and the TINT Editor will be launched.
---
How to add Content and Social Feeds in the TINT Editor
The first step to getting your TINT board up and running is adding a social feed from a network. A social feed can come from a variety of social network, such as Twitter, Instagram, or Facebook. We also have other integrations such as support for RSS feeds, and even instant messenger applications like Slack and Cisco Webex. For a complete list of the connection types, click here.
The CONTENT panel can be found on the left-hand side of the page. The Content panel is where you will add social feeds to your TINT board. Simply click any of the icons to start: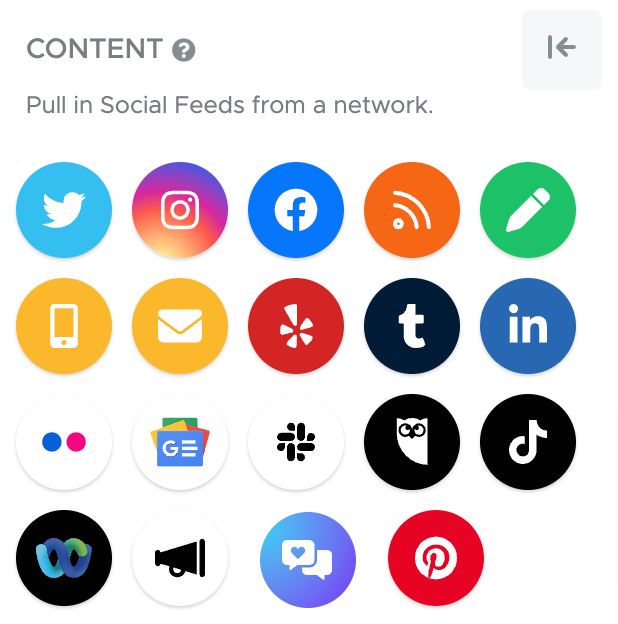 This will open up a popup with a list of the social feeds/options available for the connection you are adding.
Here's an example of what adding an Instagram feed would look like: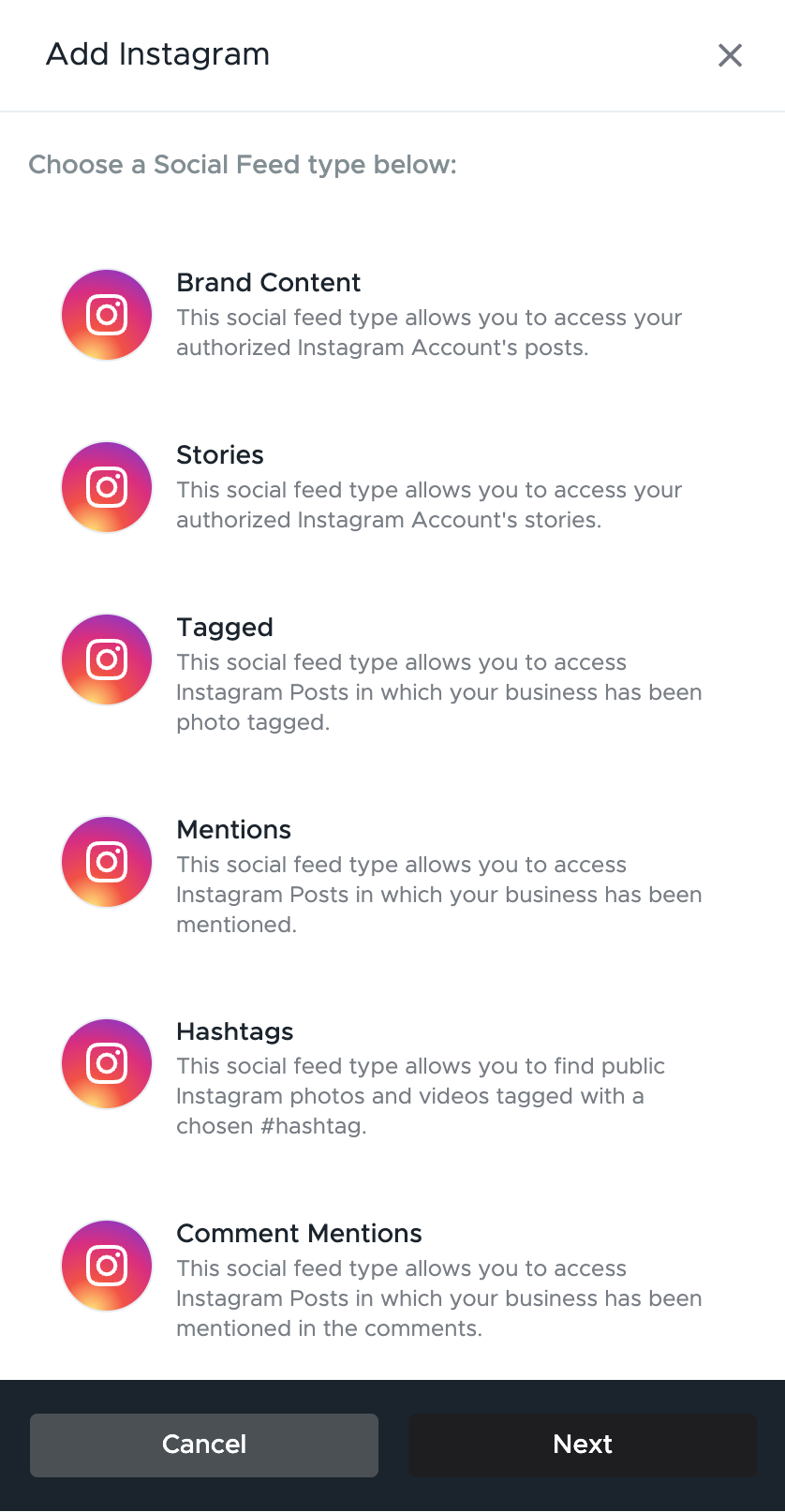 Once you have picked which kind of social feed you want to add, click next. This will take you to add your accounts.
Click on add account from the drop down menu.
This will open an

authentication page to the social network you are trying to add. Here, you will need to provide your

login credentials for the social network. This is a requirement for most connections; for more information, click here.

Click the "

Log In

" and/or "

Authorize

" buttons to continue.

This should put your name in the account drop down list.

On some social feeds, you might need use the

select username

option

as well but be aware that

will not list the username, it will always pull the name listed on account.

Once you have done that, click on add Social Feed.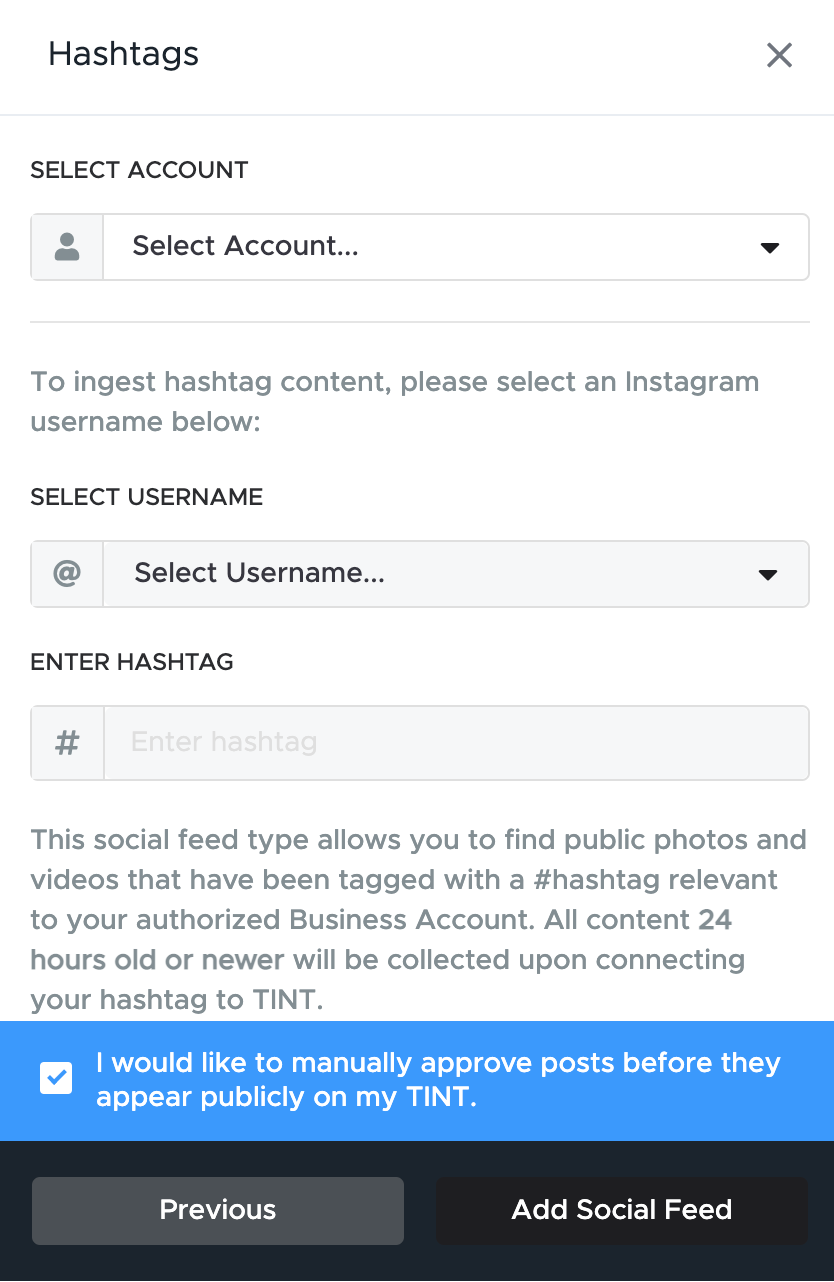 The social feed has now been created and within a few moments, posts will appear in the main portion of the page: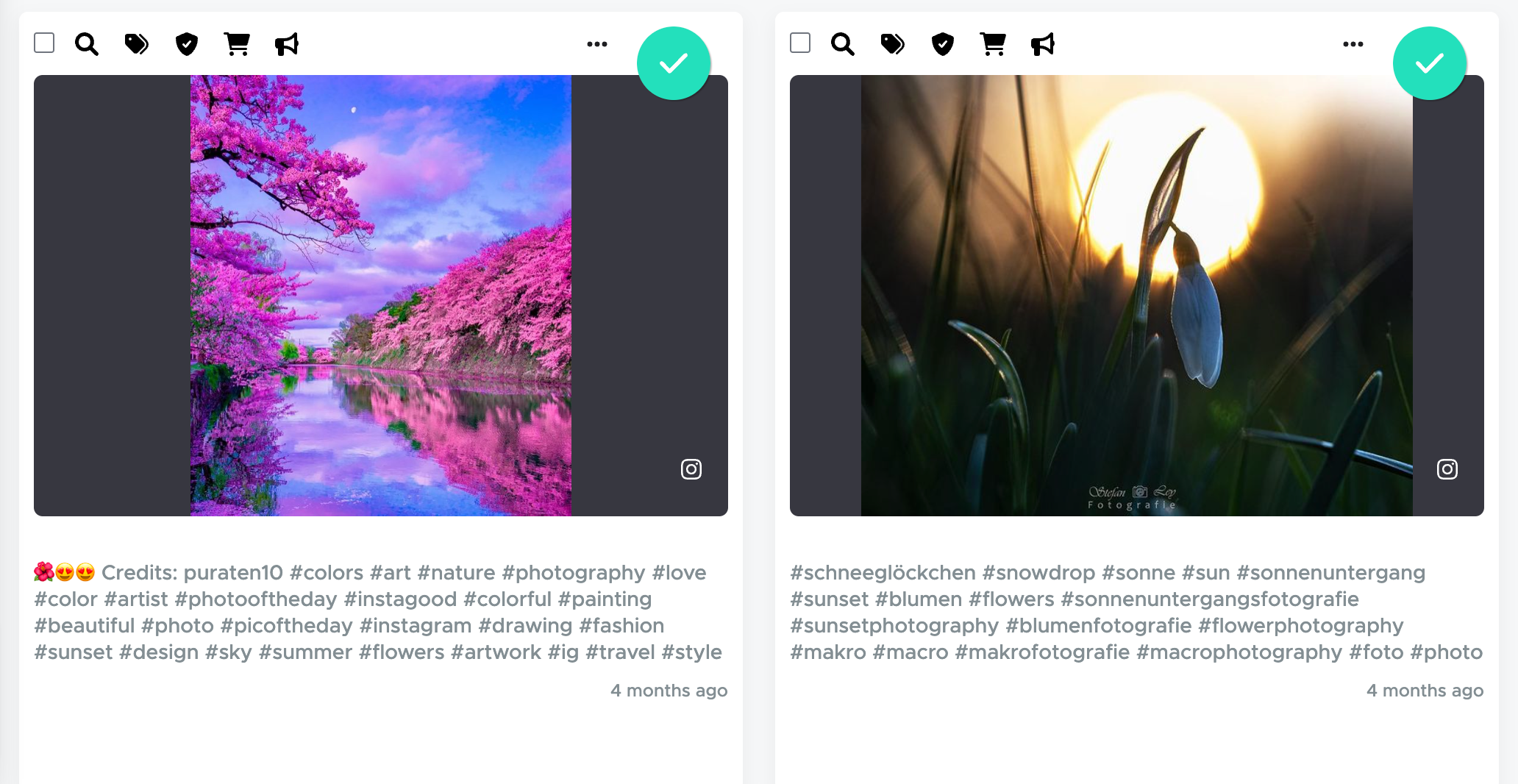 You can add multiple social feeds to your TINT board by repeating this process. Once you have all of the social feeds in place, you can move onto Personalization, Moderation, and getting your TINT board set up just to your liking.
---
How to remove, rename and toggle on/off the moderation on social feeds
If you need to remove, rename, or toggle moderation settings for a social feed, scroll down within the CONTENT panel. The social feed(s) will appear under the FEEDS YOU'VE ADDED section.
Click the cog icon to remove, pause or rename a connection or click the pause or play icon to pause or start your feed again or lock icon to toggle moderation on or off: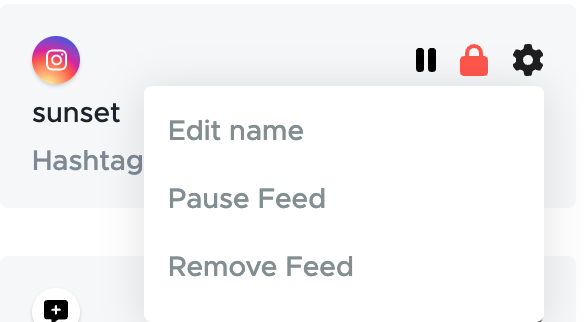 ---
If you have any questions regarding creating a TINT board or adding social feeds, please contact Technical Support at support@tintup.com.