In this article, we will cover:
What is Moderation
Moderation gives you the ability to review and approve content before it appears on your public-facing TINT board. This feature is essential when using hashtag connections and other public channels where you might not always get relevant, or appropriate, content.
With Moderation enabled on a connection, new content that is aggregated will always enter a Private queue. From there, you'll need to manually approve this content if you'd like to see it on a public display or website. Approval can be done in the Content panel of the TINT Editor at www.tintup.com.
How to enable and disable Moderation
You can enable Moderation on new connections by selecting "I would like to manually approve posts before they appear publicly on my TINT." before clicking "+Add Social Feed":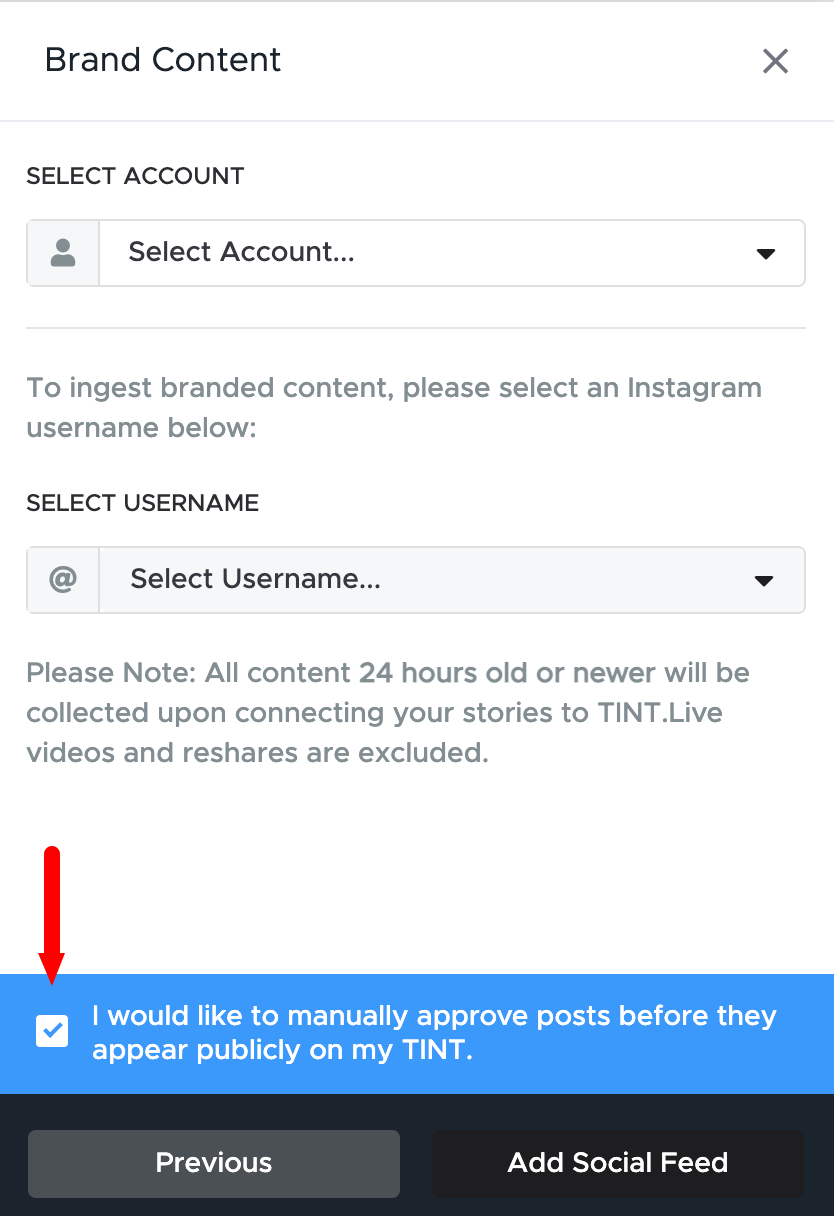 If this option is left unselected, Moderation will be disabled for the connection. This means that new content will automatically be approved and will appear on any public displays or websites you have using the TINT board.
If you want to add or remove Moderation on an existing connection, select the Content panel on the left-hand side of the screen. Then, locate the connection under the Connections You've Added section. Click the Lock icon beside the connection to enable/disable moderation: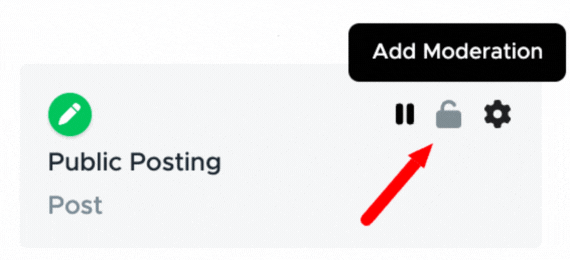 How to see different Moderation views
Views can be selected on the top of the page when viewing the Content panel:

All Posts is the default view. This view displays all content - regardless of whether it is public or private. The example below shows you a Public post which is highlighted with ✓ and a Private post with is highlighted with + sign.

Other views include Public (which displays only public posts), Private (which displays only private posts), and Trash (which displays deleted content, or content that was removed due to rules). You can toggle between these views at any time.
How to approve, reject or delete a post
Approving private post is as easy as clicking the + icon on any post. If you hover over + button, it will say Make visible.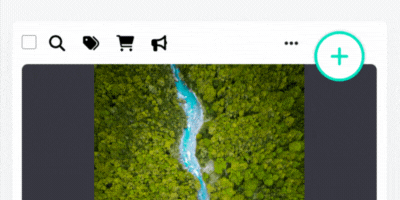 To remove public post, just click the ✓ icon. If you hover over + button, it will say Make private.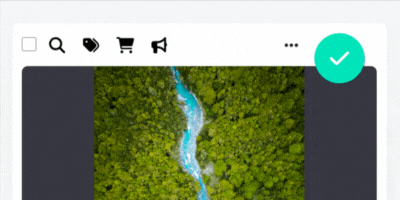 You can also delete post from your TINT board. Click the More Options icon ... above any post, and then select delete. This moves this to the Trash area.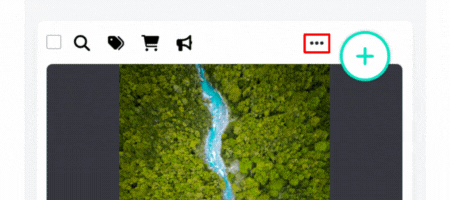 If you want to retrieve the deleted post, go to Trash and find the post you want to recover and then you have the option of recover post and make public or recover post and make private.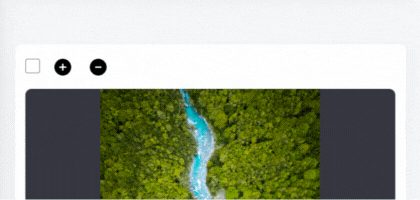 If you want to delete the deleted post, go to Trash and find the post you want to delete permanently, select it and click on the Trash bin that appears, a pop up will appear saying "Are you sure? Selected content will be permanently deleted and cannot be recovered." Two options will appear: No, Keep Content or Yes, Delete Content. Click Yes, Delete Content to delete the post.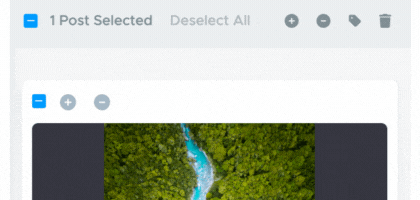 How to do bulk Moderation
You can also change the visibility of multiple posts at the same time. Select the box found above any post you like, and then choose whether you'd like to make posts Public, Private or Delete them:

You can also add Tags to multiple posts using this method (more on Tags here).
How to manage Rules / Automoderation
Our automoderation feature allows you to take some of the work out of moderation by letting you create whitelist and blacklist rules around keywords, post authors, and image content. For more information click here.
You can access the feature by clicking the Add Rules button on the left-hand side of the Content panel: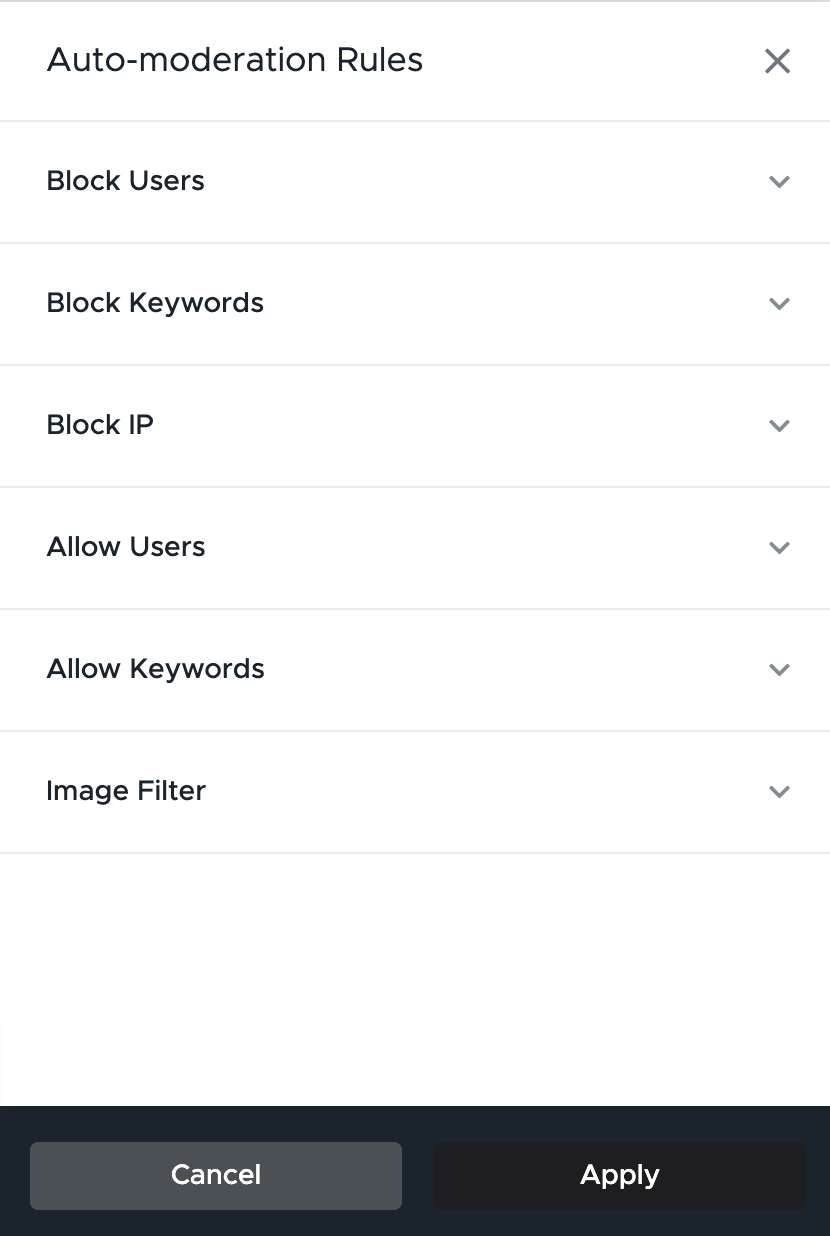 How to use the Filter Bar
The Filter Bar allows you to search the content within your TINT board for specific posts. To access the Filter Bar click the Filters button on the upper right-hand side of the screen:

Available filters include Dates, Connections, Actions, and Engagement statistics. For more information on using the Filter Bar please click here.
What do the other features mean above the posts?
There are many other features available in the Content panel! Some of these features aren't available on all plans.
Find more - If you want to find similar posts, click on the magnifying glass and similar content will pop up for you to choose.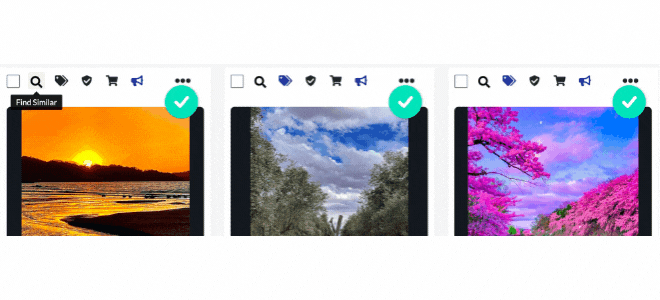 Tags - Applies Tags to selected posts. Tags allow you to further customize which content you'd like to display on your website or screens. Click the Tag icon above any post:

For more information on Tag Filtering click here.
Get Rights - Only available on Performance and Enterprise plans, our UGC Rights feature sends a request for content rights to the original post author of any Instagram or Twitter post. Just click the shield with a tick to get started:

For more information on our UGC Rights feature please click here.
Tag Products - you can tag your products in the post itself.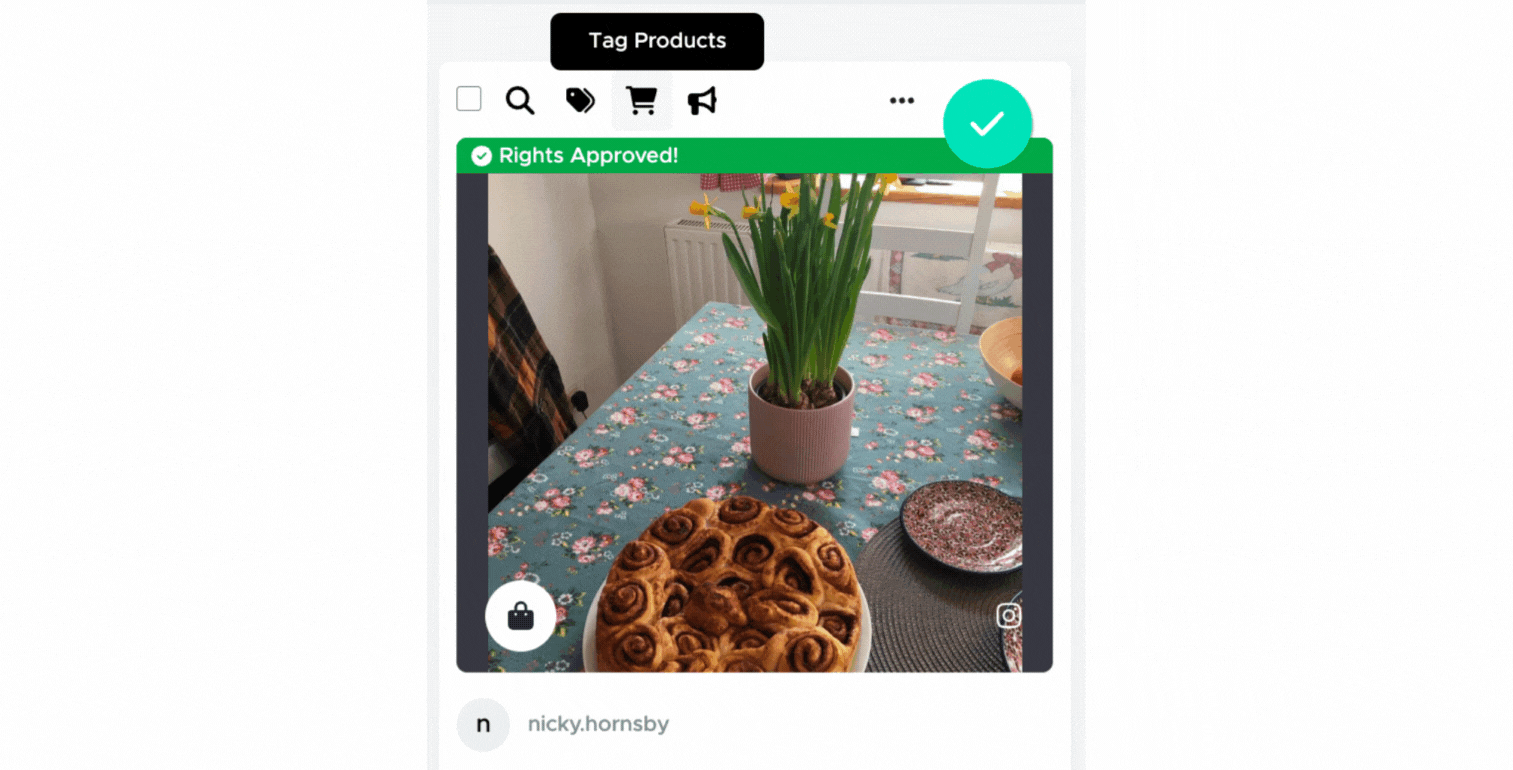 Add CTA - Adds a CTA button to any individual post. Click the microphone to get started:

For more information about the CTA buttons on the TINT board, click here.
Pin To Top - "Pins" content to the top of your display. When new content is aggregated, "Pinned" posts will continue to show up as the newest content on your TINT board. Just click the More Options icon ... and then Pin icon and this will pin itself to the top of your TINT board in the editor as well as your displayed TINT board. To unpin, go to the post and click the Pin. This will remove it from the top and place it back in its place when it was ingested.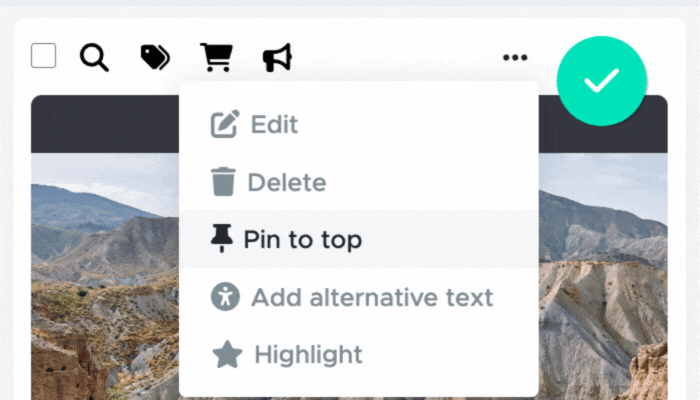 Add alternative text - this enables you to put on a description of the post so a screenreader can read it out. Uses ARIA (Accessible Rich Internet Applications. To edit or remove this, just go back to post, click on the ... > edit alternative text and edit or delete the text and click done.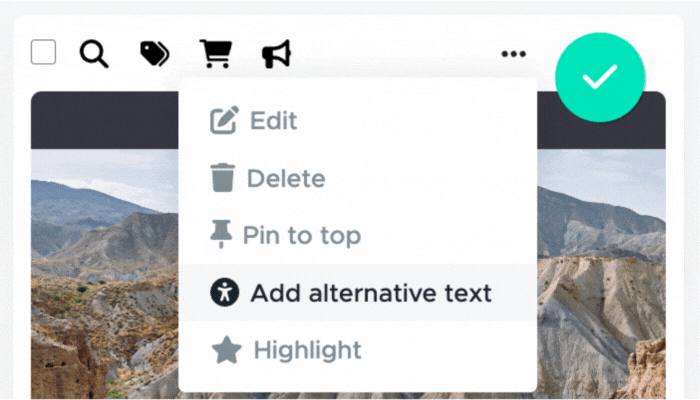 Highlight - Doubles the height and width of the post. Click the on the More Options icon ... and then Star icon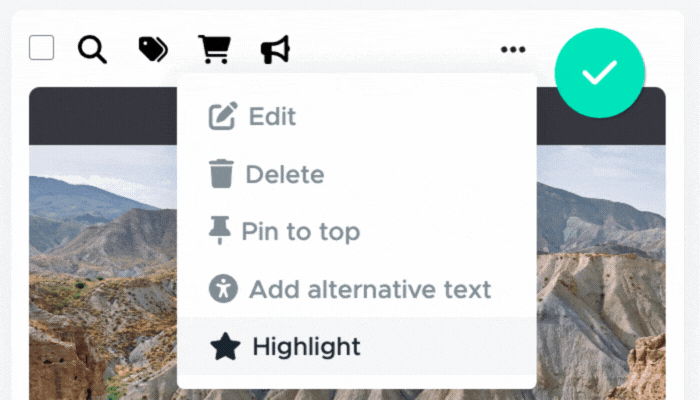 View in UGC Studio - this option will only be available for posts that are in UGC Studio as an asset and will normally have the green Rights Approved banner. This option gives you the ability to navigate between TINT board and UGC Studio to see the asset.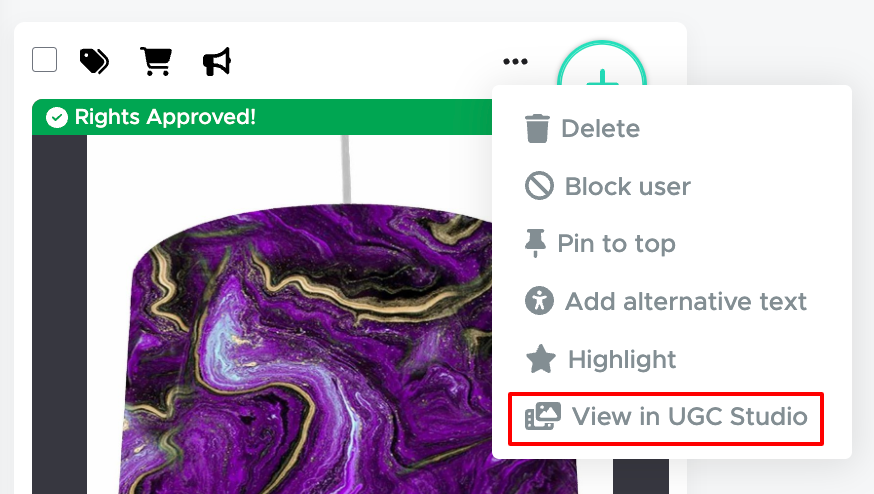 If you have any questions regarding moderation, or any of the features found in the Content panel, don't hesitate to contact Technical Support at support@tintup.com.